While You Were Away: RIP Aaron Carter, FEVER 333 Postpones Tour, Lamb Of God Metal Cruise, And More
This week on While You Were Away, we're digging new music from Pink, mourning the loss of Aaron Carter, talking about FEVER 333's postponed tour, and more.
Aaron Carter dies at 34
Aaron Carter, the former child pop star, has died at 34 years old. TMZ reports Carter's body was found in a bathtub in his house in Lancaster, California on Saturday morning (Nov. 5). So far, a cause of death has not been revealed but police told TMZ that there was no indication of foul play.
Though the family has yet to release a statement, Nick Carter posted several throwback pictures mourning the loss of his young brother on Instagram.
"My heart has been broken today," the post began. "Even though my brother and I have had a complicated relationship, my love for him has never ever faded. I have always held onto the hope, that he would somehow, someday want to walk a healthy path and eventually find the help that he so desperately needed."
The post continued, "Sometimes we want to blame someone or something for a loss. But the truth is that addiction and mental illness is the real villain here. I will miss my brother more than anyone will ever know. I love you Chizz., now you get a chance to finally have some peace you could never find here on earth….God, please take care of my baby brother."
GENRE IS DEAD! sends our thoughts and prayers to Carter's family and friends during this difficult time.
Lamb of God announce 2023 Headbangers Boat Cruise
Lamb of God and Sixthman have teamed up for the inaugural Headbangers Boat cruise festival. The cruise will depart the Norwegian Pearl on October 31st of next year from Miami and head to the Bahamas prior to its return on November 4th.
Along with Lamb of God who will perform two sets, the cruise's lineup features Mastodon, GWAR, Hatebreed, Shadows Fall, Fit for an Autopsy, God Forbid, and a performance from the solo project of Lamb of God's Mark Morton. More acts to be announced.
Riki Rachtman and Jose Mangin will host the event, while Hatebreed's Jamey Jasta will conduct live tapings of his Jasta Show podcast.
The cruise will also feature various activities, such as a Q&A conversation and photography show with Lamb of God frontman Randy Blythe, a casino tournament with bassist John Campbell, and a drum-off with drummer Art Cruz. All guests will receive a signed Lamb of God commemorative item, with a special cabin photo with Lamb of God available exclusively to pre-sale buyers.
Pre-sale tickets are available now. General public sale starts Friday, November 11th 2 PM ET.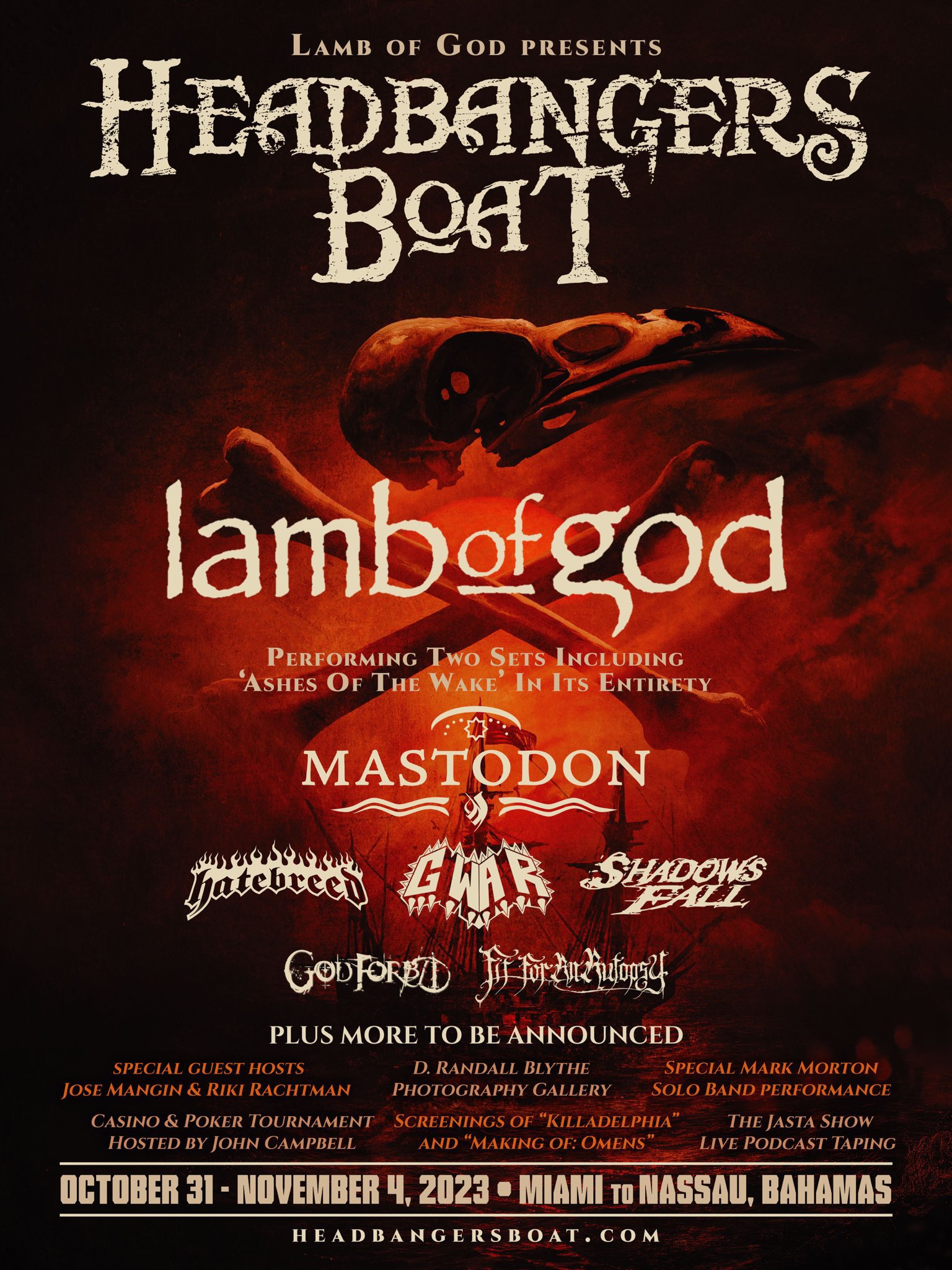 Gorillaz release new single 'Baby Queen,' their ode to an unlikely fan
Gorillaz give us another taste of their upcoming album Cracker Island with their new single "Baby Queen."
Damon Albarn revealed the backstory of the song in a LA Times profile earlier this year saying the song was inspired by a real-life incident when a Thai princess attended a Blur concert in 1997 and sat in a throne next to the venue's mixing board.
"'Song 2' started and she stood on her throne and stage-dived into the crowd," Albarn said. "The reason I've written a song about it is because I had a dream about this princess very recently; she'd grown up and we spent time in my dream together, her as a woman."
Listen to "Baby Queen" below.
Gorillaz will release Cracker Island on February 24th. Pre-orders are ongoing here.
FEVER 333 postpone live shows until spring 2023
In the wake of Aric Improta and Stephen Harrison leaving FEVER 333, the band have postponed all their live shows until spring 2023.
Sole remaining member Jason Aalon Butler explains the show are on hold "in order to give everyone the best experience possible."
"Taking this time to reset and prepare will help reach that goal," he says in a statement. "On behalf of the project I want to thank you all so much for the energy and support you continue to offer. You were promised a new and exciting era of FEVER 333 and that is what you'll get."
Read his statement below.
Pink shares new song 'Never Gonna Not Dance Again'
Pink returns with her new song "Never Gonna Not Dance Again" along with its vibrant music video.
Declaring she'll never "throw away" her "dancin' shoes," the video features the singer roller skating down the aisles of a grocery store cheering up shoppers and employees by encouraging them to stop what they're doing and dance with her. The store turns into a full-on dance party by the end of the video.
Watch it below.
"Never Gonna Not Dance Again" follows the previously released single "Irrelevant," which was a direct response to Roe V. Wade being overturned by the U.S. Supreme Court in June.
Tours on sale this week
Placebo will embark on their first North American tour in nine years after previously delaying their 2022 tour. The tour starts in Mexico City on April 17th and will wrap up in Denver, Colorado on May 20th. Tickets are currently on sale.
This is the one we've all been waiting for. Paramore have announced a 26-city North American arena tour in 2023. They'll be joined by a rotating cast of supporting acts that include Foals, Bloc Party, Genesis Owusu, and The Linda Lindas. The tour kicks off May 23rd in Charlotte, North Carolina, and wraps up in St. Paul, Minnesota on August 2nd. The Ticketmaster Verified Fan pre-sale is ongoing, while another pre-sale starts Thursday, November 10th. General sale starts Friday, November 11th at 10 AM local time.
Slipknot are heading out on their European tour next year. Starting in June the masked 9 will head over for a mix of headline shows and festival shows, like Graspop and Copenhell. The tour starts June 7th in Nickelsdorf, Austria and concludes June 21st in Berlin, Germany. Get the details here.
Sleeping With Sirens have announced their "CTRL+ALT+DEL" UK tour in support of their latest album Complete Collapse. The tour starts March 13th in Bristol and wraps up March 21st in Glasgow. Tickets are on sale now.